exotic places | home in paradise | bin laden
american institute for foreign study | secrets of ancient egypt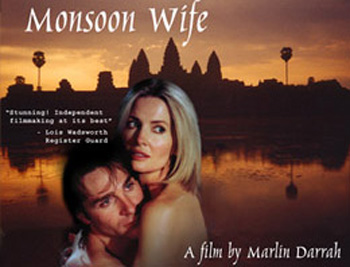 For film and screening information please contact:

Marlin Darrah at (503) 757-8445
or by email, marlin@ifilmvideo.com

------------------------------------------------------------------------
"THIS FILM TOOK ME BY STORM. An exceptional example of the 'Independent Spirit' of filmmaking."




- Mark Marvell, Festival Producer




2002 Sarasota Int'l Film Festival

MONSOON WIFE is a story of sexual obsession in SE Asia. Four Americans entangle themselves in a web of love, betrayal, and redemption in the exotic and almost lawless country of Cambodia. It is the first American produced feature film shot entirely in Cambodia since "Lord Jim" in 1964.

WATCH THE TRAILER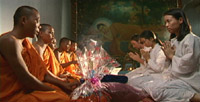 Broadband DSL Cable T1

Modem 28.8k 56k

Having trouble watching the video? Download Windows Media Player


The 92 minute feature-length film, MONSOON WIFE, was completed in 2002 and has been selected and screened at the following film festivals:

* Sarasota International Film Festival
(Winner: Producer's Choice for Best Feature)
* Roma International Film Festival
* Sedona International Film Festival
* Phoenix-Scottsdale International Film Fest
(Winner: Best of Fest - Best Feature Film)
* New York International Independent Film Festival
* Spokane-Northwest International Film Festival
(Winner: Best Film, Best Director)
* Portland Cascade Film Festival
(Winner: Best Feature Film)
* Newport Beach Film Festival
* Whistler International Film Festival
* Wine Country International Film Festival
---
Portland Tribune Film Review
"Captured by Cambodia" by Joseph Gallivan

What comes to mind when you think of Cambodia?

Street cafes where schlubby expatriates are fawned upon by teeny Asian prostitutes? Army types in Toyota Land Cruisers and boys on mopeds toting AK-47s? Limbless beggars and shattered streets?

The correct answer would be all of the above. And Portland-based movie director Marlin Darrah knows it. His debut feature, "Monsoon Wife," tells an engaging human story that remains sympathetic to the Cambodian people while hitting all the big targets.

continue reading article here ...
---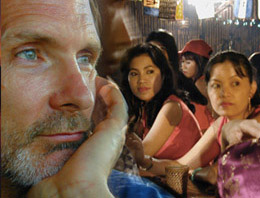 MOVIE SYNOPSIS

For several years, young American expatriate, Thomas McIntyre, has immersed himself in the dark side of Cambodia's exotic sex and drug culture, seeking a way out of his life. Instead, he unexpectedly finds the way back in. Suddenly and deeply in love, he is on the fence between degradation as a "butterfly man," who samples one prostitute after another, and a lasting relationship with Teeda, his "monsoon wife," the beautiful Cambodian woman he won't yet allow his heart to trust.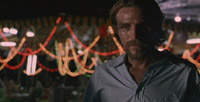 Thomas finds himself nearly penniless in a country left ravaged by the Khmer Rouge's reign of terror. When his old college nemesis, Cliff, offers Thomas $5,000 to play tour guide to Cliff and his wife for two weeks, Thomas' desperation for cash wins out over his suspicion and resentment of Cliff, and he accepts the job. He has no way of knowing that Cliff is bent on using Thomas as a means to achieve his own hidden and very dark agenda. Too late, Thomas discovers that Cliff, out of spite, has married Thomas' ex-lover, Crystal. She, in turn, has come to Cambodia to win Thomas back and divorce her increasingly distant husband.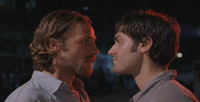 Thomas is disgusted to learn that Cliff's aspiration is to become a "butterfly man" himself. The increasingly obnoxious Cliff badgers Thomas to reveal his checkered past in the sex bars of Phnom Penh. Thomas has no choice but to submit to Cliff's wishes if he expects to be paid. Assisted by his dissipated ex-pat friend Marty, Thomas plunges grimly into his new role as Cliff's escort through the underbelly of this lawless city's prostitute trade. As they tour the worst of the "massage hotels" - where women are bought and sold as cheaply as a meal - Thomas begins to appreciate just how far he has come from living the empty life of a "butterfly man." He resolves to put it behind him forever once his contract with Cliff is completed.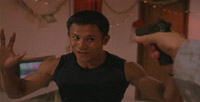 The streets of Phnom Penh turn into a dangerous trap for Thomas and Cliff as they move from one brothel to the next, each shabbier than the last. By circumstance, Teeda and her daughter Ani are drawn into Thomas' dire situation and eventually they are trapped by gunmen that would kill them for a few dollars.

Finally Cliff disappears into the night, Marty is murdered, Crystal prepares to leave, and Teeda desperately runs through the mean streets of Phnom Penh searching for her abducted daughter, Ani. In this maelstrom, Thomas must marshal his courage to face a deadly enemy and save himself to survive and claim his true fortune - Teeda's love.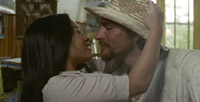 Written by:
Producer/Director:
Producer/1st AD:
Director of Photography:
Music Composed by:
Edited by:
Production Designer:
Executive Producer:
Associate Producers:



Principal Cast:





C

andy Davis & Marlin Darrah
Marlin Darrah
Skye Fitzgerald
Rick Cullis, S.O.C.
Steven Chesne
Jerry Pratt & Marlin Darrah
Anna Gadsby
Mika Sunago
Jeff Blenkarn
Harald Linke
Rick Cullis
Sandy & Karol Friedman
McGeorge Robinson
Steve Boss
Constance Frenzen
Rob Stockton

"MONSOON WIFE" is currently being marketed and distributed to both North American and International markets. For a copy of the movie and for press kits contact:

Marlin Darrah at (503) 757-8445
or by email, marlin@ifilmvideo.com.